posted by

laurainlimbo
at 11:35pm on 18/08/2014 under
happy birthday wishes
Once again, I've neglected to post birthday messages for my friends. I'm too busy these days to do much else, so here goes, more rounds of birthday warm wishes to the following wonderful people:

lostandalone22

brynhilda

myrrhmade

darkwaver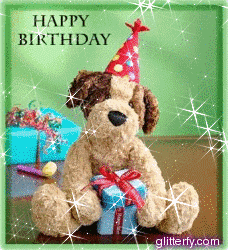 Glitterfy.com - happy birthday Glitter Graphics
Sorry I have been missing in action - though I'm not sure who's noticed. One of these days, I do have updates, photos, and other stuff.
But for now, my bed beckons!
Happiest of birthdays to you all! and happy continued summer...